The Architecture Lobby's Green New Deal Working Group invites you to join us for T-A-L Earth Week, April 20-26!
This year marks the 50th anniversary of Earth Day, which began with teach-ins across the United States on April 22, 1970. In solidarity with the global climate movement, please join us in a series of international events reflecting on the difficult relationship between architectural work and climate change.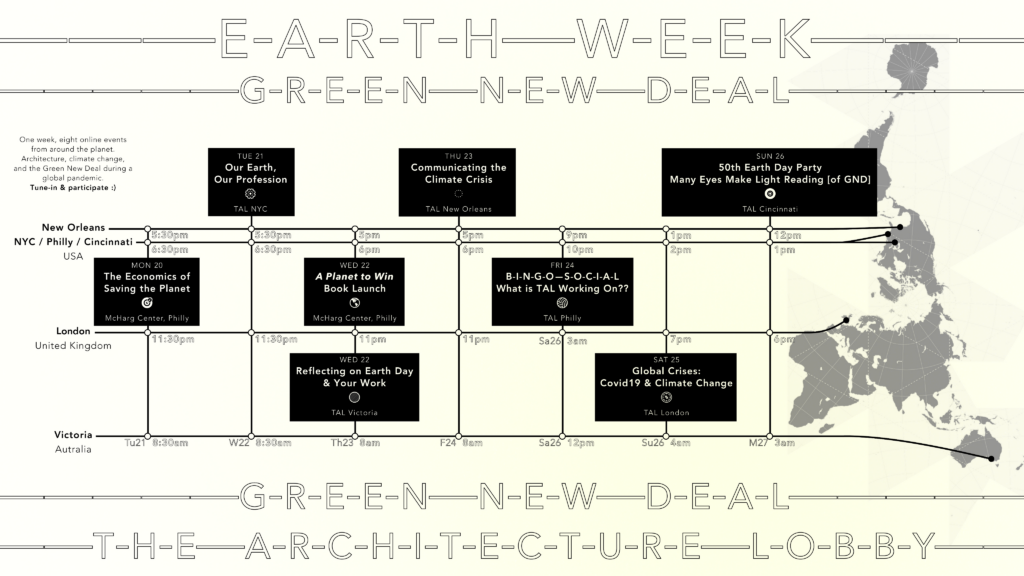 Monday, April 20
One of the central, unanswered questions for the Green New Deal is: how will we marshal the resources to transform America's economy around its principles of clean energy jobs, justice for frontline communities, and rapid decarbonization? This conversation has begun to take shape in the fields of economics and finance, where green stimulus, industrial policy, and other long-ignored policy levers have once again moved to the center of discourse. On Monday, April 20th, join us for a moderated discussion between Stephanie Kelton, Ann Pettifor, Gernot Wagner, and Arthur van Benthem about the economics of the Green New Deal.
Tuesday, April 21
How can architects facilitate and organize for a just transition that supports the reorganization of power needed to confront the crises of climate change and social inequity? This virtual think-in brings together Jacob R. Moore, Damian White, Harriet Harriss, and The Architecture Lobby in a public discussion on architecture's relationship to climate, frontline communities, the construction industry, labor, and education.
Wednesday, April 22
Today is Earth Day. Join The Architecture Lobby's Victoria Chapter in creating a space to reflect on the Earth and our relationship with it. Are you able to enact your values about the Earth through your work?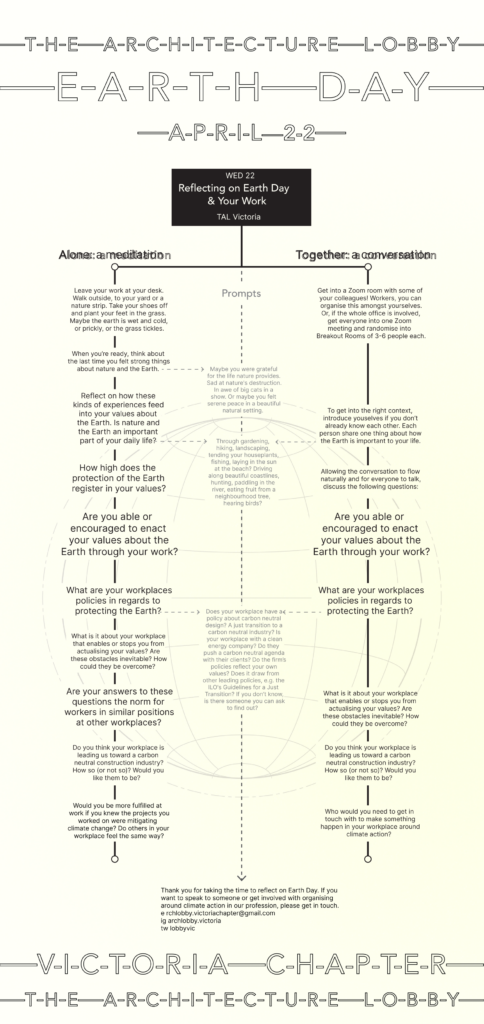 Join us for a public discussion with the authors of "A Planet to Win: Why We Need a Green New Deal." The book explores the political potential and concrete first steps of a Green New Deal. It calls for dismantling the fossil fuel industry, building beautiful landscapes of renewable energy, and guaranteeing climate-friendly work, no-carbon housing, and free public transit. And it shows how a Green New Deal in the United States can strengthen climate justice movements worldwide.
Thursday, April 23
Join us for a presentation by photographer Virginia Hanusik, whose work chronicles the intersection of climate change, architecture, and infrastructure in southern Louisiana. This event will feature a virtual 'gallery tour' of Virginia's work, where she will discuss how she came to photograph the changing landscape of coastlines, and how her work relates to a larger agenda of climate change activism.
Friday, April 24
Maybe you've just discovered TAL and want to see what we're all about. Maybe you're in our Green New Deal working group and haven't been able to check in with the Socializing Small Practices working group. Or maybe you just want to have a drink and see some friendly faces. Join us for B-I-N-G-O S-O-C-I-A-L, hosted by the Philly Chapter. Learn what TAL's various working groups and chapters have been up to and ease into the weekend with a drink, or two, or three.
Saturday, April 25
Global Crises: Covid-19 & Climate Change
The Architecture Lobby London (UK), 7:00pm BST / 2:00pm EDT / 11:00am PDT / 6:00pm GMT
The UK based chapter of the Architecture Lobby will host a conversation with organizers from the field of architecture to discuss sustainability, justice and solidarity in the architectural profession. This discussion will bring together Anna Lisa McSweeney (Architects Climate Action Network – ACAN) and Stephanie Edwards (Urban Symbiotics, RIBA London Councillor) in conversation with Elisavet Hasa (T-A-L) to address how the ongoing climate change crisis, especially amidst this pandemic, affects the ways architects are organizing around working conditions and gender equality, and our demands on housing.
Sunday, April 26
The Architecture Lobby – Cincinnati Chapter will be teaming up with Cincy Nice Social House's Mother Earth Days, an 18-day celebration of our planet and our creators, to  create an engaging format to understand the policies and plans our lawmakers are considering to combat climate change.  Rep. Alexandria Ocasio-Cortez has introduced The Green New Deal as a 10-year effort to mobilize every aspect of American Society to 100% clean and renewable energy  by 2030. Reading an entire piece of legislation is a daunting activity so we are going to break it down and ask participants to read as much as they want before they tag the next person to pick up where they left off. By the end of the event, we will have popcorn-style read the entirety of the Green New Deal and be better informed about how we can take on climate change as citizens.