A-B-O-U-T
The Architecture Beyond Capitalism School (ABC School) for 2021 spanned six weeks beginning Saturday June 19, 2021 with a culminating think-in session on July 31. The content was presented and discussed in three thematic sections: Capitalism, Labor, and Collective Practice. Each theme had two components: debates stimulated by lessons from people whose work is central to the week's theme and salons for discussing the outcomes of design assignments pertinent to that theme. Sessions addressed inequity and inaccess to architectural education, burdens of debt on students, the precarious labor of students, faculty, and staff, and an attempt to prepare participants for a post-developer-driven mode of practice.
The Lobby is committed to long-term structural change, including the prototyping of new curricular structures and content, developing new modes of co-producing, and sharing knowledge equitably. More specific than comprehensive, the ABC School represents a small first step toward larger change. This virtual summer program was open to students, faculty, practitioners, and members of various publics in all parts of the world.
‍
T-I-M-E-L-I-N-E
PROGRAM‍
Saturday June 5 — ORIENTATION
Theme 1 — C-A-P-I-T-A-L-I-S-M Course Material
Saturday June 19 — SPEAKER Session
Saturday June 26 — SALON Session
Theme 2 — L-A-B-O-R Course Material
Saturday July 3 — SPEAKER Session
Saturday July 10 — SALON Session
Theme 3 — C-O-L-L-E-C-T-I-V-E-S Course Material
Saturday July 17 — SPEAKER Session
Saturday July 24 — SALON Session
Saturday July 31 — THINK-IN Course Material
‍
C-U-R-R-I-C-U-L-U-M
‍
THE COURSE
2-hour live sessions every Saturday for 6 weeks – every other week featuring discussions prompted by international experts and alternate every other week featuring salons of shared imaginaries. Optional "office hours" available as well.
Each session will be interactive; all participants are both "students" and "teachers".
3 themes: Capitalism; Labor; Practice
Discussion groups emphasize linkages to contemporary conditions of capitalism, not academic or abstract theory
Salons are meant to challenge typical "studio" output; the assignments/imaginaries to be shared and discussed are not describing buildings
‍
WHAT WAS LEARNED?
In 6 weeks, it was intended that participants would gain better capacity to:
Understand the discipline of architecture in the context of capitalism
Debate the intersection of capitalism with racism, decolonization, climate change justice and the participation of architecture in those intersections
Rethink "design"/studio outputs
Investigate modes of representation that map power, material chains, and/or organizational structures
Move from passive learning to active knowledge production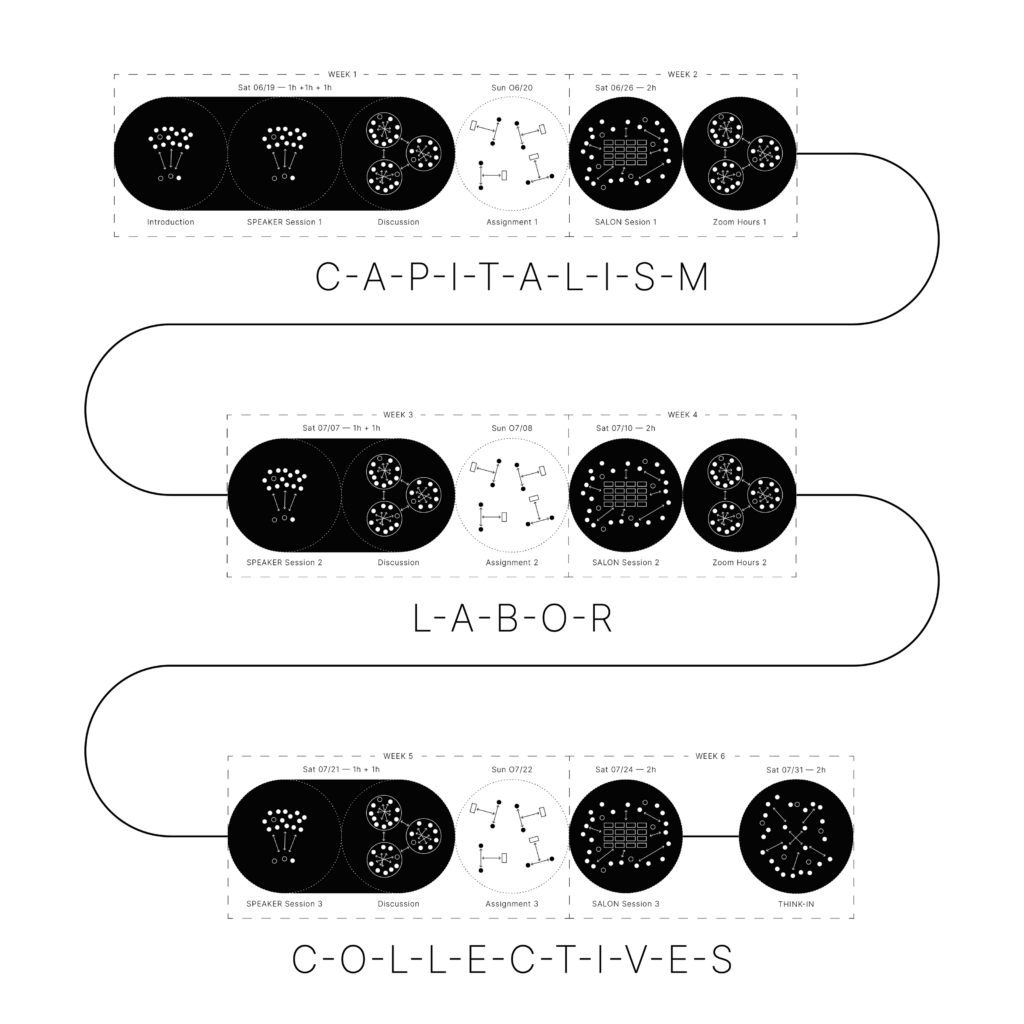 Organizers
WG stewards:
Valérie Lechêne, Daniel Jacobs
C-A-P-I-T-A-L-I-S-M coordinators:
Peggy Deamer, Priyanka Shah, Xinyi Xie
C-A-P-I-T-A-L-I-S-M saloners:
Daniel Barber, Manuel Shvartzberg Carrió, Kirsten Day, Peggy Deamer, Sharon Haar, Priyanka Shah
L-A-B-O-R coordinators:
Kadambari Baxi, Aaron Cayer
L-A-B-O-R saloners:
Kadambari Baxi, Aaron Cayer, Charlie Edmonds, Daniel Jacobs, Natalie Leonard
C-O-L-L-E-C-T-I-V-E-S coordinators:
Palmyra Geraki, Quilian Riano
C-O-L-L-E-C-T-I-V-E-S saloners:
Kaitlyn Boniecki, Frank Burridge, Will Martin (coordinators); Kirsten Day, Palmyra Geraki, Daniel Jacobs, Matthew Okazaki, Quilian Riano, Valérie Lechêne